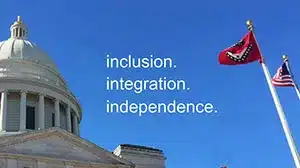 The Governor's Council on Developmental Disabilities (GCDD or Council) promotes integration, inclusion and independence for Arkansans with developmental disabilities (DD).
We do so by identifying the most pressing needs of the DD community in our state and addressing those needs by conducting outreach, fostering change and supporting capacity-building efforts.
The Council works to improve the independence and productivity of Arkansans with developmental disabilities and to ensure their integration into the community. Key activities include:
• Increasing and strengthening self-advocacy participation across the state
• Supporting programs to identify and remove barriers to information, services and support
• Advocating for policy changes to increase competitive, integrated employment
• Developing and supporting coalitions
• Encouraging advocacy to keep policymakers informed about disability issues
The Council consists of 23 members, appointed by the governor. Members include:
• Individuals with developmental disabilities
• Family members of individuals with developmental disabilities
• Directors of state agencies that serve people with disabilities
• Representatives from nonprofit and private organizations that provide services and support for people with disabilities
Learn more by watching our video below and visit us on our YouTube channel for more.
The Council's purpose is to connect people with developmental disabilities to the resources and programs they need to be independent, be productive and be integrated and included in all parts of community life. GCDD, along with our network partners, works to implement the Developmental Disabilities Assistance and Bill of Rights Act in Arkansas to assure that individuals with developmental disabilities and their families participate in the design of community services that allow increased opportunities to live and work locally.
The Arkansas Council is supported by a small administrative staff including an Executive Director, a Program and Outreach Manager, a Program and Outreach Coordinator, a Finance and Operations Coordinator and an Administrative Assistant. Please see the Staff page for contact information.

State councils on developmental disabilities, such as GCDD, are federally funded, self-governing organizations. GCDD is funded by a grant from the U.S. Department of Health and Human Services Administration on Community Living (ACL) through the Administration on Disability's Office of Intellectual and Developmental Disabilities (OIDD).

For additional information, email ddcstaff@dfa.arkansas.gov or call 501-682-2897.
Council Administrative Staff Offices are located at:
1515 W. 7th Street, Suite 320-330
Little Rock, AR 72201
---
Monthly Email Newsletter
To keep up with the Council through monthly email updates, please subscribe to our newsletter here GCDD eNewsletter
---

The Governor's Council on Developmental Disabilities is a member of the National Association of Councils on Developmental Disabilities (NACDD). NACDD is an outcomes-oriented, mission-driven organization. NACDD leads the way in advancing issues that improve the lives of people with DD and their families by actively listening to all stakeholders, identifying and exploring emerging trends, and proactively reaching out to collaborate with a variety of leaders and organizations to develop effective solutions. NACDD's values include: Self-Determination, Inclusion, Diversity, Learning, Innovation, Collaboration, Communication, and Accountability. NACDD is the national association for the 56 Councils on Developmental Disabilities (DD Councils) across the United States and its territories.
This page links to PDF files. Use this link to download Adobe Reader if needed.