The Governor's Council on Developmental Disabilities and the Arkansas DD Network
A Collaboration:
The Council, the P & A (Protection and Advocacy Organization), and the UCEDD (University Center for Excellence in Developmental Disabilities) are the three main partners in this collaboration. Please see graphic below.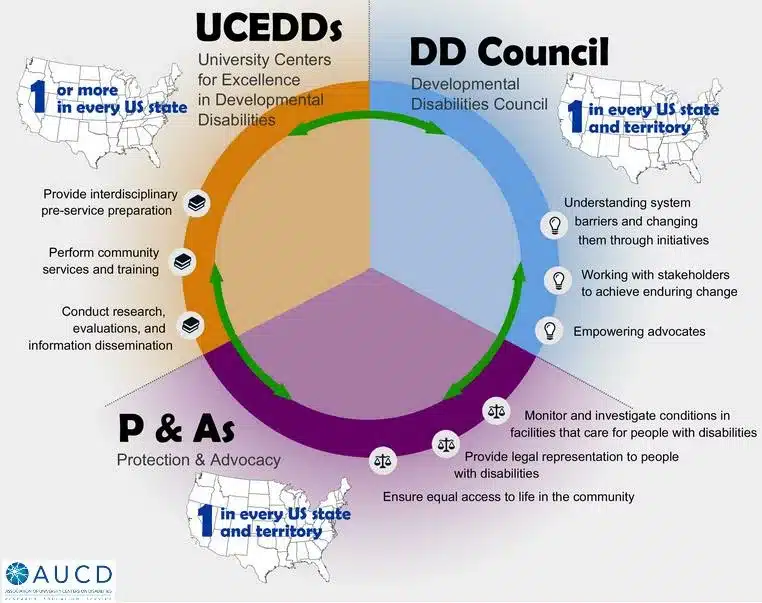 While each entity within the network serves specific purposes, they were established with overlapping goals to facilitate collaboration and interconnectivity among the different units. This structure allows each entity to work cross-functionally to achieve the core goals of the DD Act: self-determination, independence, productivity, integration, and inclusion in all facets of community for people with developmental disabilities.
State Councils on Developmental Disabilities are federally funded, self-governing organizations charged with identifying the most pressing needs of people with intellectual and developmental disabilities in their state or territory. Councils are committed to advancing public policy and systems change that help these individuals gain more control over their lives.
Also active in this collaboration in Arkansas are other organizations including, but not limited to, various state agencies such as the Department of Human Services Division of Developmental Disabilities Services and Arkansas Rehabilitation Services, other councils, commissions and taskforces such as the Arkansas State Independent Living Council and the Employment First Taskforce, and many direct service providers across the state of Arkansas.

Arkansas DD Network Contacts:
Jonathan Taylor, Executive Director
Governor's Council on Developmental Disabilities Arkansas
1515 W. 7th Street, Suite 320
Little Rock, Arkansas 72201
Phone: 501- 682-2897
Email: jonathan.taylor@dfa.arkansas.gov
Tom Masseau, Executive Director
Disability Rights Arkansas
400 West Capitol, Suite 1200
Little Rock, Arkansas 72201
Phone: 501-296-1779
Email: tmasseau@disabilityrightsar.org
Karan B. Burnette, Director
Partners for Inclusive Communities
10809 Executive Center Drive
Searcy Building, Suite 316
Little Rock, AR 72211
Phone: 800-342-2923
Email: kbburnet@uark.edu