What Are You Proud Of?  By Kimberly Gatewood
I'm Kim Harris Gatewood. I am a black woman with disabilities. I work for my state's council on developmental disabilities. I would like to talk with you today about Disability Pride because July is Disability Pride Month.
Let me take you back a few years, before I knew that Disability Pride was even a thing. As a 22-year-old mother of 2 living in a big city, I had to take care of myself and young daughters. At the time, we were staying with my mother and sister, but they were busy with their own lives. I had my own responsibilities. I had to go to school. That meant I had to find childcare for my two children while I was at school. I took them to childcare and then went to school myself. It was a busy time for us all, but we made it work. A few years later, my family moved to Little Rock, Arkansas. I continued to make my own life choices, with support, if I needed it. I got married at the age of 28 years old. I have learned a lot in life by making my own choices, good and bad, and learning from them. Now my daughters are all grown up and have their own families, so I am a grandmother of 7 and PROUD.
I am PROUD of how I raised my children. My experience of being a disabled parent was a positive one. Hard, but positive. I had the support of my family. Some disabled parents have a negative experience. They may not have a support system like allies, friends, or family to lean on. People who don't understand disabilities may think that disabled parents are not able to take care of their own children. It is happening less than in the past, but some disabled parents have had their children taken away from them. If someone discriminates against you for being a disabled parent and you find yourself in a custody battle, contact your state's disability rights agency for help.
I am PROUD of being a disability advocate. I don't just advocate in my professional life; I advocate for my grandchildren. Some of them have chronic illness and other support needs. My experience of being an advocate for them has been one of the most rewarding things I have ever done. I know how important it is for children to have strong advocates, and also to learn how to advocate for themselves when they are old enough.
So this has been me sharing my experience and talking about my pride as a woman with disabilities. I want to challenge you to really think about your disability pride experience. What are you proud of?
-Kim
More Information on Disability Pride Month
What is Disability Pride Month?
July is Disability Pride Month, an annual month-long celebration. Disability Pride has been celebrated by some members of the disability community for over 30 years, while many allies and people with disabilities still don't know about it. The Americans with Disabilities Act was passed on July 26, 1990, to prohibit discrimination against people with disabilities. Following the signing of this legislation, celebrations were held in many communities across the country. Boston held the first Disability Pride Day event in July 1990. Since 1990, many groups, cities and states have participated. Disability Pride Month is new to most people, but the idea of Disability Pride is rooted in the same foundation as other established pride movements.
What does it mean?
The Merriam-Webster dictionary defines 'Pride' as "a reasonable or justifiable self-respect". Pride in the context of disability will have different meanings for each of us. A majority haven't seen these two words, disability pride, in the same sentence before. For some it provides a chance to amplify one another, for others it means recognizing that disability is an integral part of their identity or honoring the unique qualities of a person with disabilities as a natural part of human diversity. Other advocates say it means to bring pride to the term "disabled" and increase awareness of ableism (the discrimination of people with disabilities). For some people, it is about providing safe spaces for important conversations to happen.
Disability Pride Flag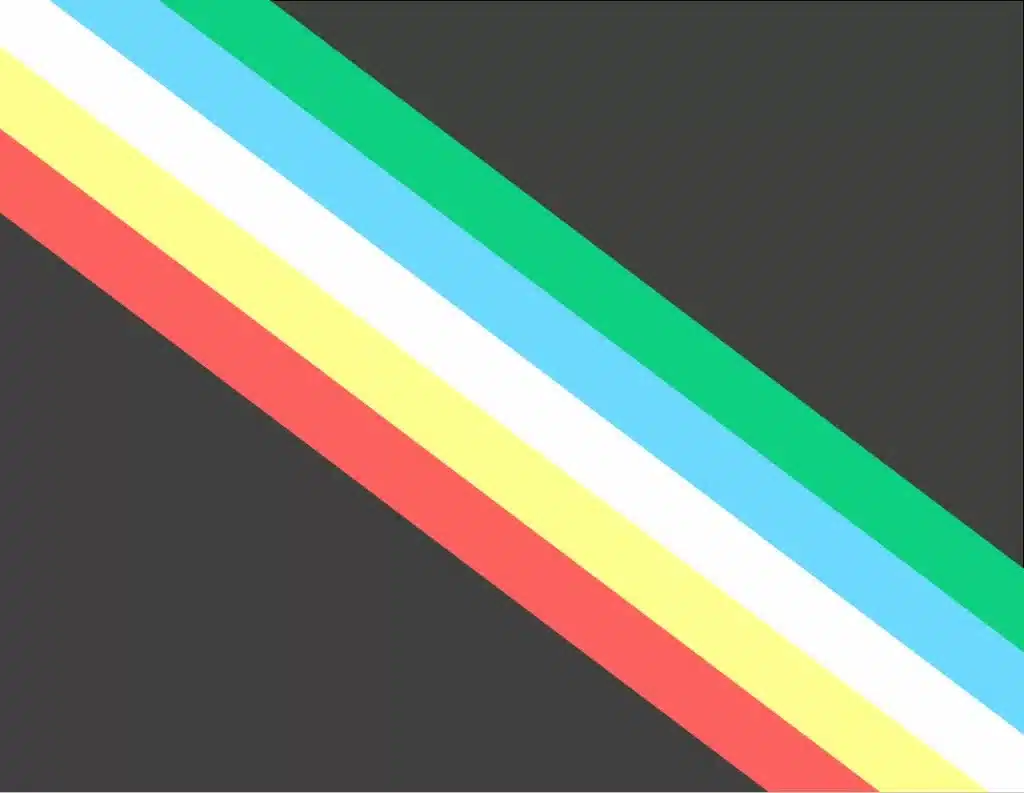 The Disability Pride Flag, created by Ann Magill, is a rectangular image, longer than it is tall, with diagonal stripes from upper left corner to lower right corner in desaturated colors of green, blue, white, yellow and red over a charcoal grey background.
What does the flag mean? The Disability Pride Flag creator, Ann Magill, a disabled woman, created each of its elements as a symbol of a different part of the disability community.
The Dark Grey Field (background): this field is to represent the disabled people who have lost their lives.
The Colors: each color on this flag represents a different aspect of disability.
Red: physical disabilities
Yellow: cognitive and intellectual disabilities
White: invisible and undiagnosed disabilities
Blue: mental illness or psychiatric disabilities
Green: sensory perception disabilities
The original concept for the flag included a multi-colored lightning bolt design over a black field background. Magill redesigned the flag in July 2021 based on feedback from the disabled community. When her original concept was viewed online (especially while scrolling), the lightning bolt design created a strobe effect, and posed a risk for people with epilepsy and migraine sufferers. The original, bright colors and severe contrast also brought out concerns. Several people in the Disability community collaborated on Tumblr and came to a consensus on a new design that's more accessible to everyone. Ann herself says "I believe it is better for communication and awareness that we focus on one version of the flag."
What hashtag to use?
#DisabilityPrideMonth