Developmental Disabilities Awareness Month Arkansas 2020
Join the Arkansas Governor's Council on Developmental Disabilities (GCDD or Council) in raising awareness about the importance of inclusive communities and acceptance for people with disabilities. This year the Arkansas Council's theme is 'Get to know me'.
People with disabilities are people, first and foremost, and want to be treated just like everyone else. There is no need to be nervous around people with disabilities. If you are not sure how to act, just say hello and ask. Get to know the person, not the disability!
Treating others with respect is a great place to start! These are a few ways to respectfully interact with a person who has disabilities:
Speak directly to the person, not to their caregiver.
Don't lean on wheelchairs or other assistive equipment.
Presume competence, or that the person can do things on their own, unless they ask for help or support.
We are united in fostering an inclusive culture across Arkansas, because inclusion benefits everyone, enriching the lives of individuals with and without disabilities alike. During this month, we want people to share their stories, photos, and resources far and wide to expand the conversation on community inclusion.
Weeks 1, 2 and 3 of DDAM 2020
The Council and Staff kicked things off during the first week of DDAM 2020 as a major sponsor of the Arkansas Association of People Supporting Employment First (APSE) Conference at the Holiday Inn Airport Conference Center, in Little Rock on March 3rd through the 5th.
GCDD's provider transformation project with the Arkansas Department of Human Services Division of Developmental Disabilities Services funded a pre-conference, all-day training for developmental disabilities service providers on March 3rd. This was followed by two days of training for all attendees on competitive integrated and customized employment for individuals with disabilities. The Council sponsored 10 self-advocates registration fees to attend this conference.

The first week of DDAM activities continued when, on March 6th, the GCDD Vice-Chair, Lud Kozlowski, was the keynote speaker at the 3rd Annual Be Your Own Beautiful Gala in Jonesboro, Arkansas.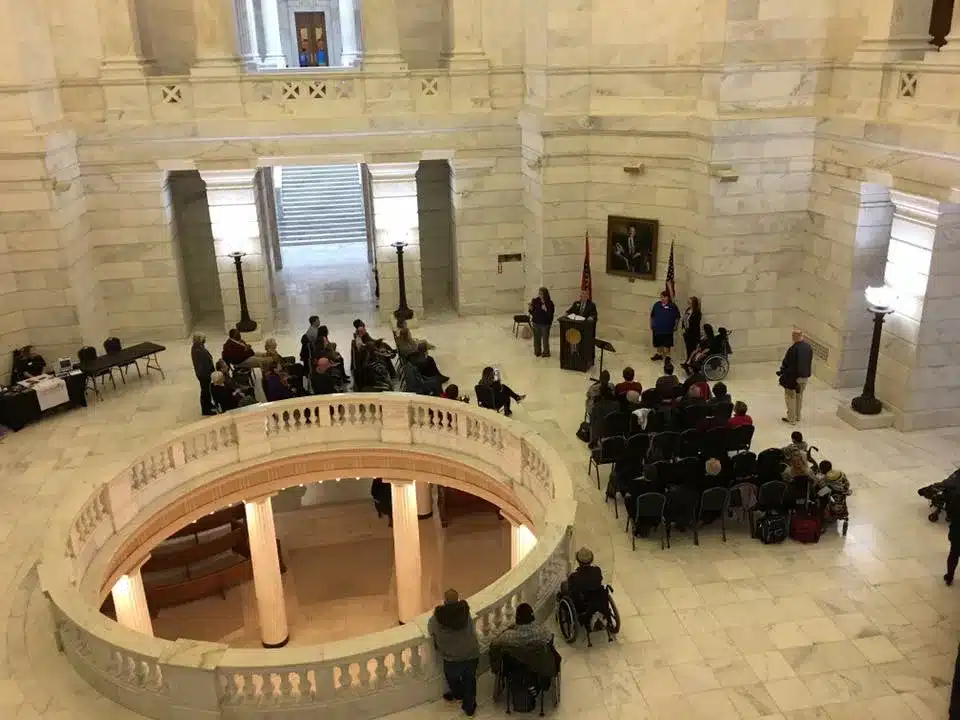 The second week of DDAM2020 really got going on Tuesday March 10th, when
advocates, allies and policymakers shared a day of legislative advocacy at the
Arkansas State Capitol in Little Rock during the Community of Champions Annual Pie Day. We enjoyed pie made and served by students of the University of Arkansas Pulaski Technical College (UA PTC) Culinary Arts and Hospitality Management Institute 3D Program. UA PTC donated the pies and allowed students and staff to volunteer during the event. It was a great day for attendees. We thank all the advocates who spoke and congratulate those who recieved well-deserved awards.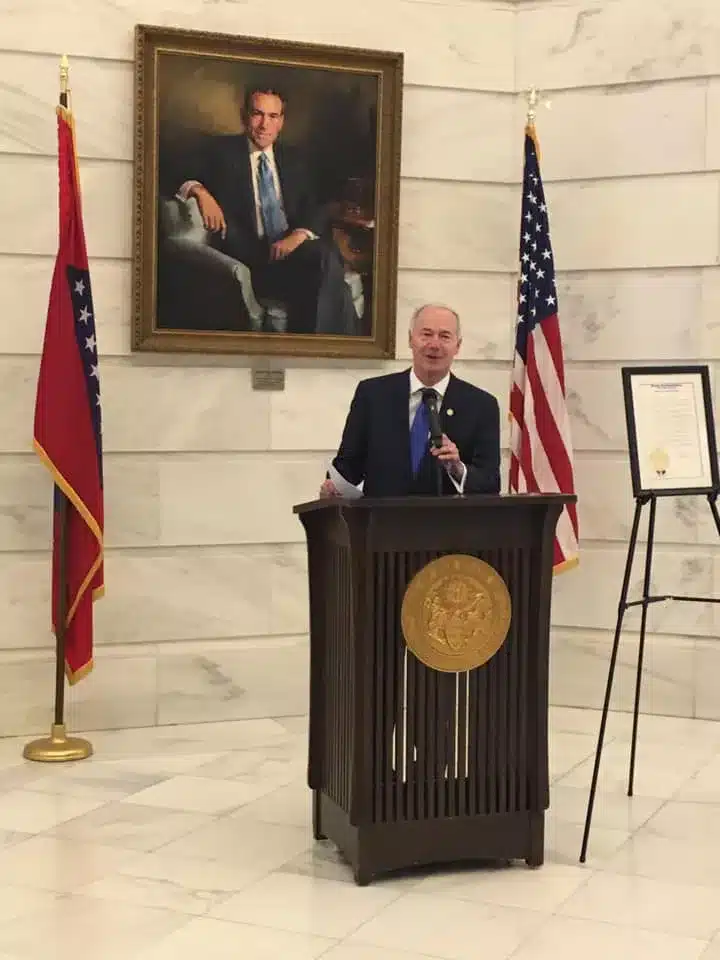 The next day, on Wednesday March 11, we joined Governor Asa Hutchinson and many partners at the Arkansas State Capitol, this time for the Governor's DDAM Arkansas 2020 Proclamation announcement. Our thanks to the Governor for his continued support!
Our week continued as the Arkansas Council held its Quarterly Meeting on Thursday, March 12. Our day turned out different than we originally planned. Due to an abundance of caution in response to the developing public health crisis related to coronavirus, or COVID-19, the Governor's Council on Developmental Disabilities had to take precautions to protect our community and do our part to slow the spread of the virus. The quarterly meeting took place online instead of at UA Pulaski Technical College and the planned tour of the Culinary Arts and Hospitality Management Institute was postponed to a later date. Council business was completed, and the staff was approved to publish a notice of funds available.
On March 16, the GCDD Arkansas started off the 3rd week of DDAM2020 by issuing a Notice of Funds Available and announcing a Request for Proposals for funding of up to $500,000 available to applicants for projects that will advance the implementation of selected Goals, Objectives and Activities of its current 5-year plan. Look for information on that announcement here on our Apply for Funding page.
In response to the developing public health crisis related to coronavirus, or COVID-19, the remainder of in-person DDAM 2020 activities during March have been cancelled and may be rescheduled for a later date.
Please continue advocating and celebrating Developmental Disabilities Awareness Month! Together we can do more, share more, and make a difference.
On social media search for and use the hashtag #DDawareness2020
Resources are available at https://nacdd.org/ddam/ and on the GCDDAR website.
The national DDAM campaign is a partnership between AUCD, NACDD and NDRN:
AUCD – The Association of University Centers on Disabilities
https://www.aucd.org/template/index.cfm
NACDD – The National Association of Councils on Developmental Disabilities
https://nacdd.org/
NDRN – The National Disability Rights Network
http://www.ndrn.org/index.php
History of DDAM
In 1987, President Ronald Reagan made a public proclamation that the month of March should be recognized as Developmental Disabilities Awareness Month to "increase public awareness of the needs and potential of Americans with developmental disabilities." Though our mission remains largely the same, so much has changed since 1987. While we still aim to increase public awareness, our focus has shifted to the importance of inclusion and acceptance.