Who Takes Care of the Caregiver?
Have you ever thought, "Who takes care of doctors when they get sick?" or "Who cuts the barber or hairstylist's hair?" Have you asked, "Who takes care of the caregiver?" These individuals pour their energy and love into providing care for their loved one's day in and day out, often neglecting their own physical, mental and emotional health.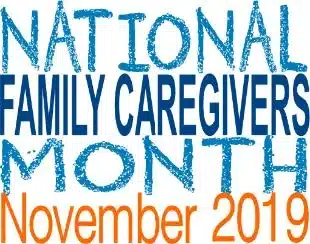 November is National Family Caregivers Month and, with the holidays quickly approaching, showing caregivers some much needed love is more important now than ever. Here are some tips to get the family caregiver in your life some care of their own this holiday season.
Respite hours – Give the gift of respite hours to a caregiver in your life. To give it a holiday twist, create a coupon book where the caregiver can tear out coupons throughout the year to ask a family member or friend to give them a break for a few hours.
Prepare some meals – Caregivers often times are not only responsible for the care of a loved one, but also preparing meals for the entire family. Offer to prepare a meal for the caregiver and their family once a month or whenever you can. Every little bit helps.
Offer a clean home – Recommend the caregiver have a day out with their family and, while they are out, clean their home. During this time of year, the holidays can increase foot traffic in the home and germs that could cause the flu, a cold and other illnesses. As caregivers often neglect their own health, their immune system can be really low this time of year increasing their risk of becoming sick. Offering to clean their home can help them stay well during this busy season.
Schedule a wellness visit – Ask a caregiver how they are feeling and encourage them to schedule a wellness visit with their primary care physician. They may say they don't have the time because their focus is on their loved one's care. Offer to take care of their loved one and/or even help take them to their doctor so they can take care of their health.
Listen – Mental and emotional stresses are often passed over and not considered contributing factors to health problems. However, if mental health is not checked and managed frequently, caregivers can face caregiver depression, burnout and chronic diseases like heart disease. Lend an ear to a caregiver to give them a safe space to vent their struggles, barriers, fears and challenges to help reduce their stress and problem solve.
This holiday season don't forget the ones who care for others daily before caring for themselves. Offer the gift of caring to a caregiver.
RESOURCES
Caregiver Action Network's Family Caregiver Toolbox: https://caregiveraction.org/family-caregiver-toolbox
On Social Media, use these hashtags:
#NationalFamilyCaregiversMonth
#ThankACaregiver
#BeCareCurious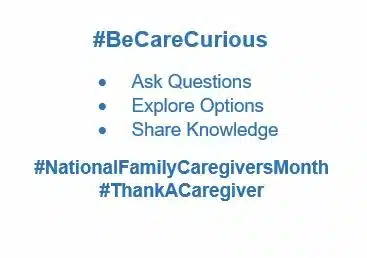 Arkansas Lifespan Respite website: https://humanservices.arkansas.gov/about-dhs/dpsqa/choices-in-living-resource-center/arkansas-lifespan-respite
On Social Media, use these hashtags:
#RespiteAwareness
#TakeTheTime