In this post, we wrap-up our discussions on employment during National Disability Employment Awareness Month 2019.
October has been a busy time across Arkansas with many people celebrating NDEAM, beginning with Governor Hutchinson's Arkansas NDEAM 2019 Proclamation and kick-off event at the State Capitol, throughout the month many businesses welcomed people with disabilities into their workplaces for job shadowing experiences, mayors issued proclamations and held press conferences to bring awareness to disability employment and employed individuals with disabilities shared photos of themselves on social media through the Campaign for Disability Employment's #RightTalentRightNow photo-sharing project.
In our blog, one type of competitive, integrated employment that we have not yet covered this month is self-employment. Self-employment (with or without supports) in a competitive business or industry – while earning a similar or customary wage for the same or similar work performed by workers without a disability – is competitive, integrated employment.
On October 25th, 2019, Kasey Hodges, self-advocate, graphic artist/designer and GCDD member, visited with GCDD staff about her love of art, her design company and her goals for competitive, integrated employment.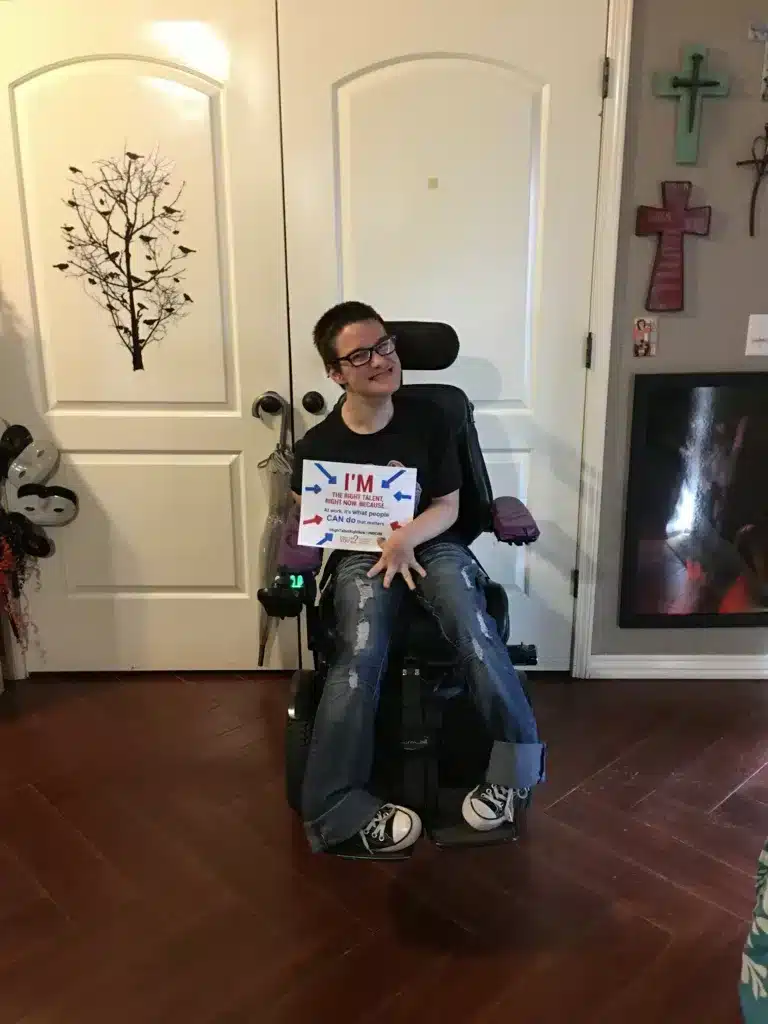 Today we put the spotlight on an individual who is self-employed. Kasey Hodges earned and received her Bachelor of Arts degree in Theatre Arts from Hendrix College in 2014. She is also a 2019 graduate from the graphic design certification program at New Design School (now known as PIXEL) in Fayetteville. Kasey has a physical disability called cerebral palsy, which only enhances her passion and gives her a unique perspective on art and design. She sees art and design as powerful methods of expression and hopes to bring that power (being the purity of truth) to her clients' branding, web presence, and printed materials.
Kasey is currently self-employed through her own company, Kasey Hodges Design. However, her career goal is to gain employment at an established design firm or other company where her talent and skills will be utilized, and her unique perspective will be accepted. She is based in Springdale and is a very active member of the Northwest Arkansas arts community.
Kasey Hodges Design offers services like branding, graphic design, print design, and web design. Through her company, Kasey has provided professional design services to the Zweig Group, Elevate Performance, Cantrell-Griffin Business Brokers, Art Ventures and other clients. She also creates art and graphics for her own enjoyment and sells items through Redbubble, an online marketplace for artists. Kasey is adept in her use of social media to share her work and to stay connected with other artists and creators.
Kasey uses typical modern technology – her computer, the Adobe Creative Suite – and some adaptive technology – like an adapted trackball mouse, the on-screen keyboard tool and her AAC device – to create and communicate. Her personalized AAC device (augmentative and alternative communication) is also a speech-generating device. She has experience using her modes of communication in many settings, including being on-camera. As a self-advocate and disability advocate, Kasey has participated in video shoots and appears in several videos which are currently available online. She continues her advocacy work through her position on the Governor's Council on Developmental Disabilities and in her participation with other advocacy groups.
If you are ever unsure of how to interact with a person with a disability, just ask. GCDD Arkansas has released a video on this subject titled "Self-advocate Tips on Interacting with Individuals with Disabilities". You can view that video on our YouTube channel here: https://www.youtube.com/watch?v=nOCiGquLp3E

If you would like to contact Kasey Hodges, find her online:
https://www.kaseyhodges.design/
Facebook and Instagram: @kaseyhodgesdesign